Departing From
Swindon,
Kemble,
Stroud,
Stonehouse,
Cheltenham Spa,
Worcester Shrub Hill,
Droitwich Spa,
Kidderminster,
Stourbridge Jct,
Rowley Regis
'The Statesman' celebrated train heads into North Wales for a journey along the spectacular coastal route with its sweeping sea views and climbing high into the Snowdonia National Park and up the stunningly beautiful Conwy Valley passing through a region of haunting beauty and grandeur, of wild mountains, hidden valleys, cascading rivers, still glacial lakes and deep forests. There is the option of spending time at either the popular Victorian tourist centre of Betws-y-Coed, or Blaenau Ffestiniog. We also have an optional excursion available offering a steam hauled journey on the famous Ffestiniog Railway.
Travelling across the Cheshire plain to Chester, we pass the Roman Walls and enter Wales running alongside the Irish Sea passing Rhyl on a coastline famed for its beaches and views. At Llandudno Junction the train reverses for the spectacular journey up the beautiful Conwy Valley where a breath-taking range of scenery unfolds, from historic castles through estuary rich in wildlife, to gentle slopes that give way to majestic crags with views of tumbling waterfalls and high mountains.
The high peaks of Snowdonia are on view before our train enters the imposing slate landscape of Blaenau Ffestiniog. It is here you may join our optional tour or perhaps visit the Llechwedd Slate Caverns situated just outside the town. The train returns in the late afternoon retracing our journey over the same enchanting route.
Click here to view our Pullman Dining Menu.
TRAVEL TIMINGS*
| | | |
| --- | --- | --- |
| STATION | DEPARTS | RETURNS |
| Swindon | 05.35 | 23.55 |
| Kemble | 05.50 | 23.30 |
| Stroud | 06.10 | 23.15 |
| Stonehouse | 06.20 | 23.05 |
| Cheltenham Spa | 06.45 | 22.45 |
| Worcester Shrub Hill | 07.25 | 22.15 |
| Droitwich Spa | 07.35 | 22.00 |
| Kidderminster | 07.55 | 21.50 |
| Stourbridge Jct | 08.10 | 21.35 |
| Rowley Regis | 08.25 | 21.25 |
PLEASE NOTE *
All timings shown above are approximate and may be subject to change.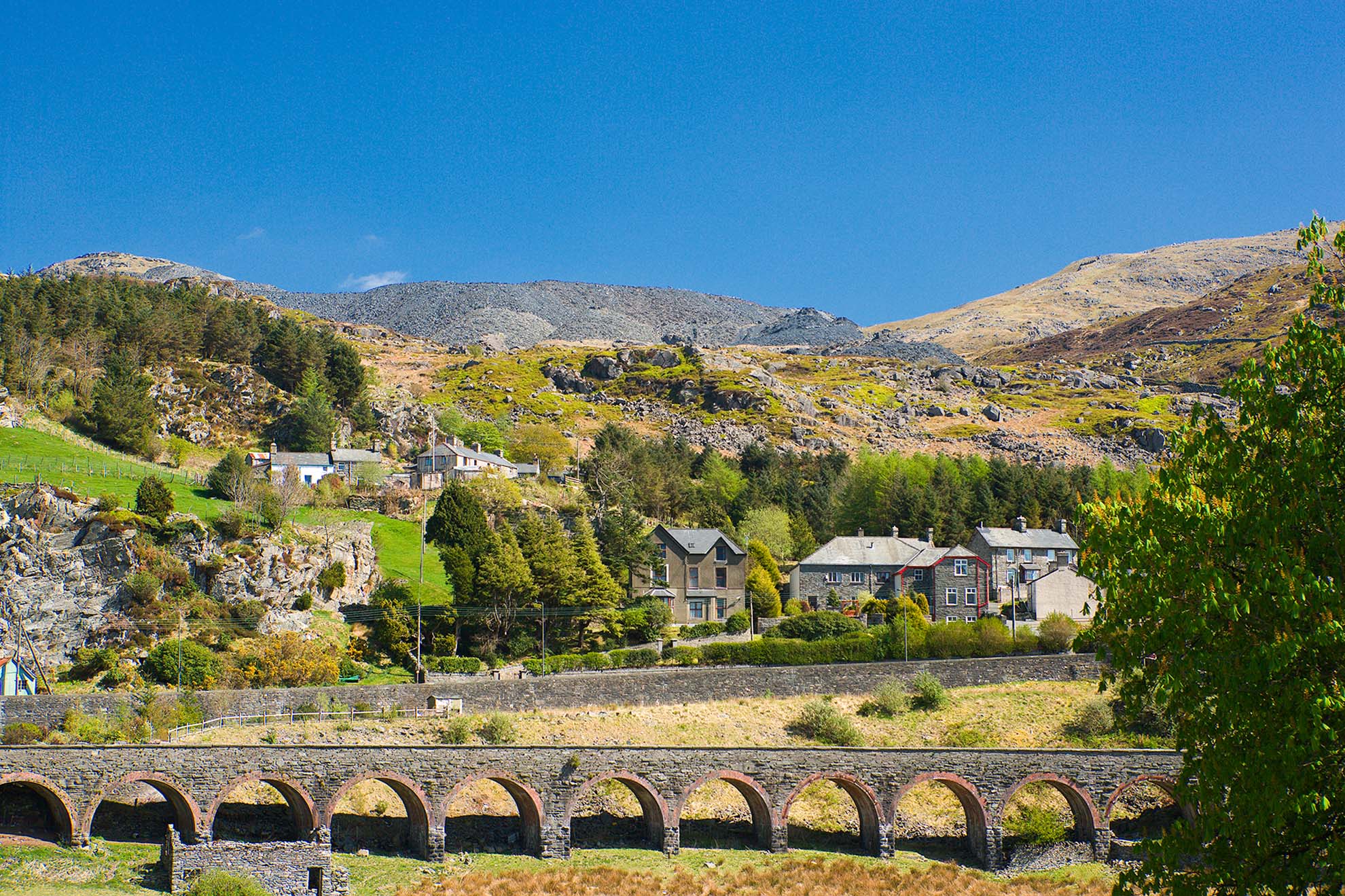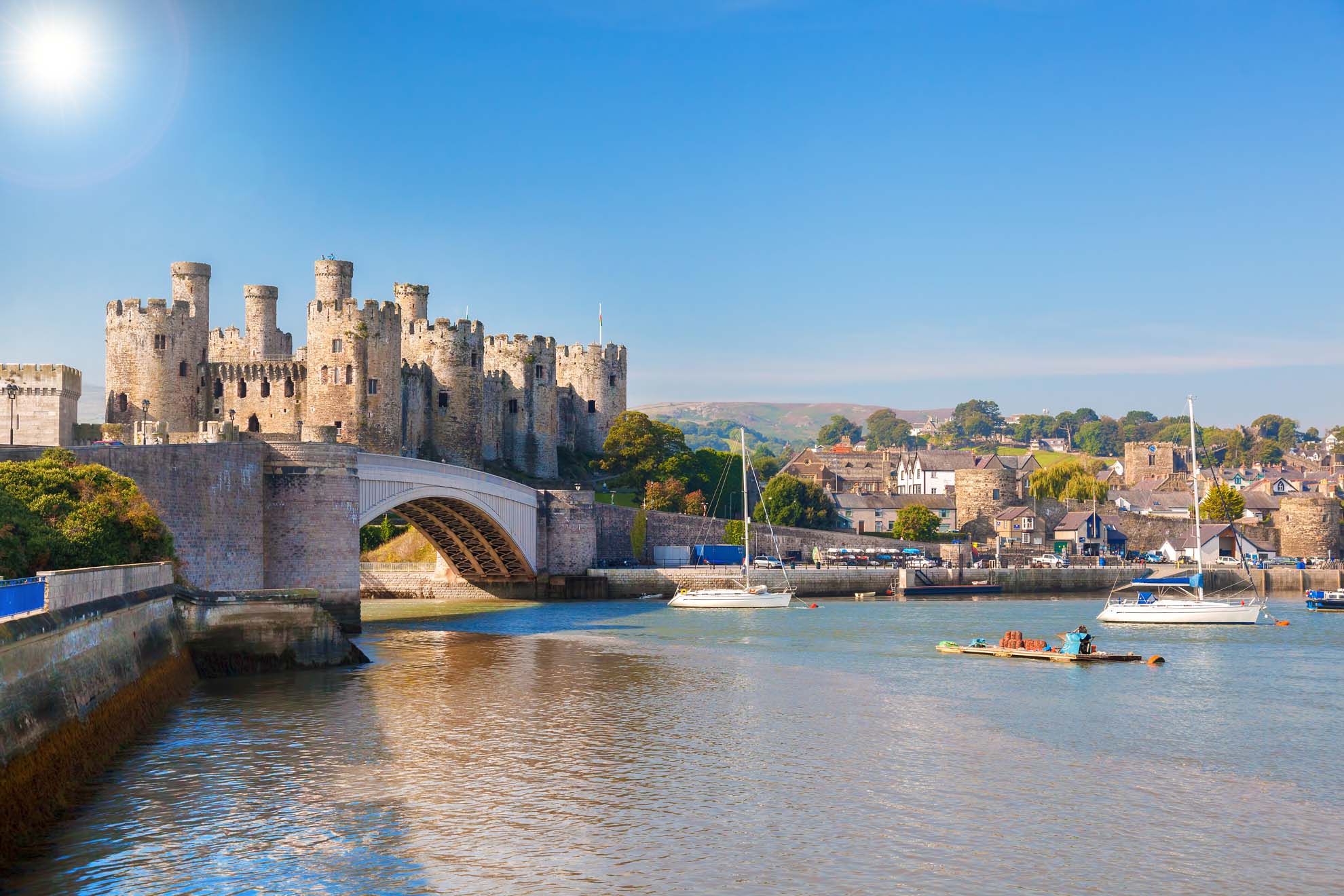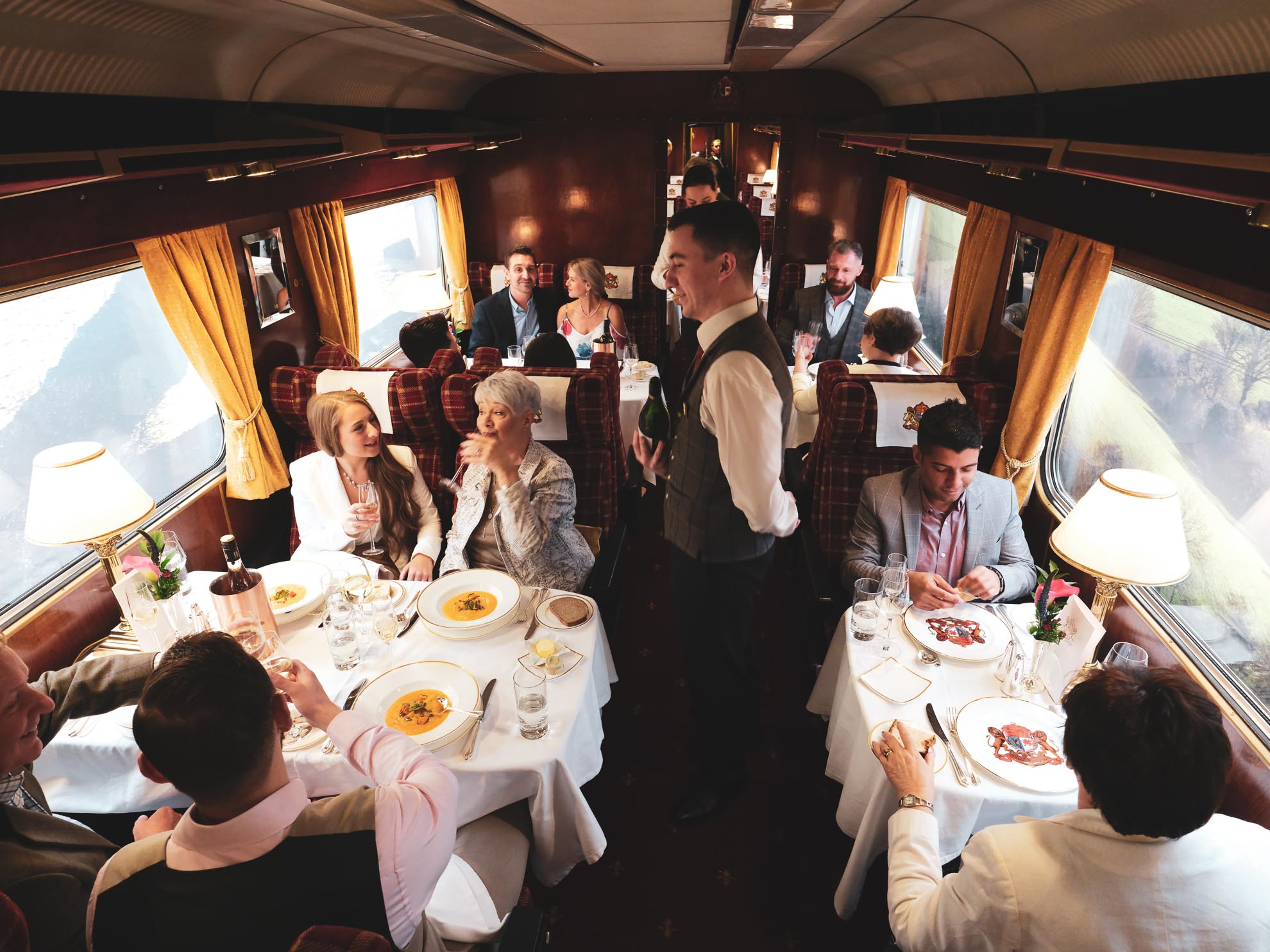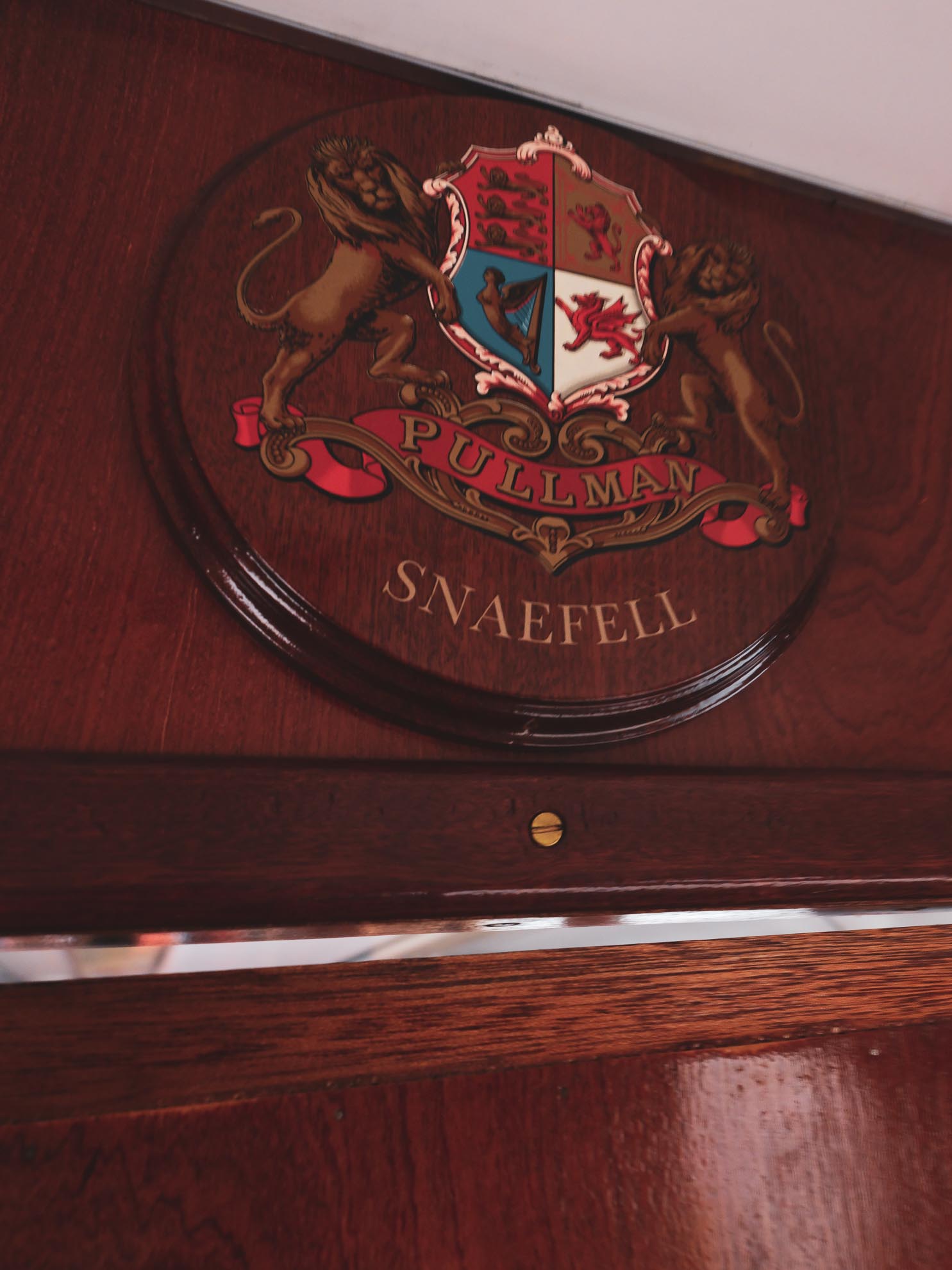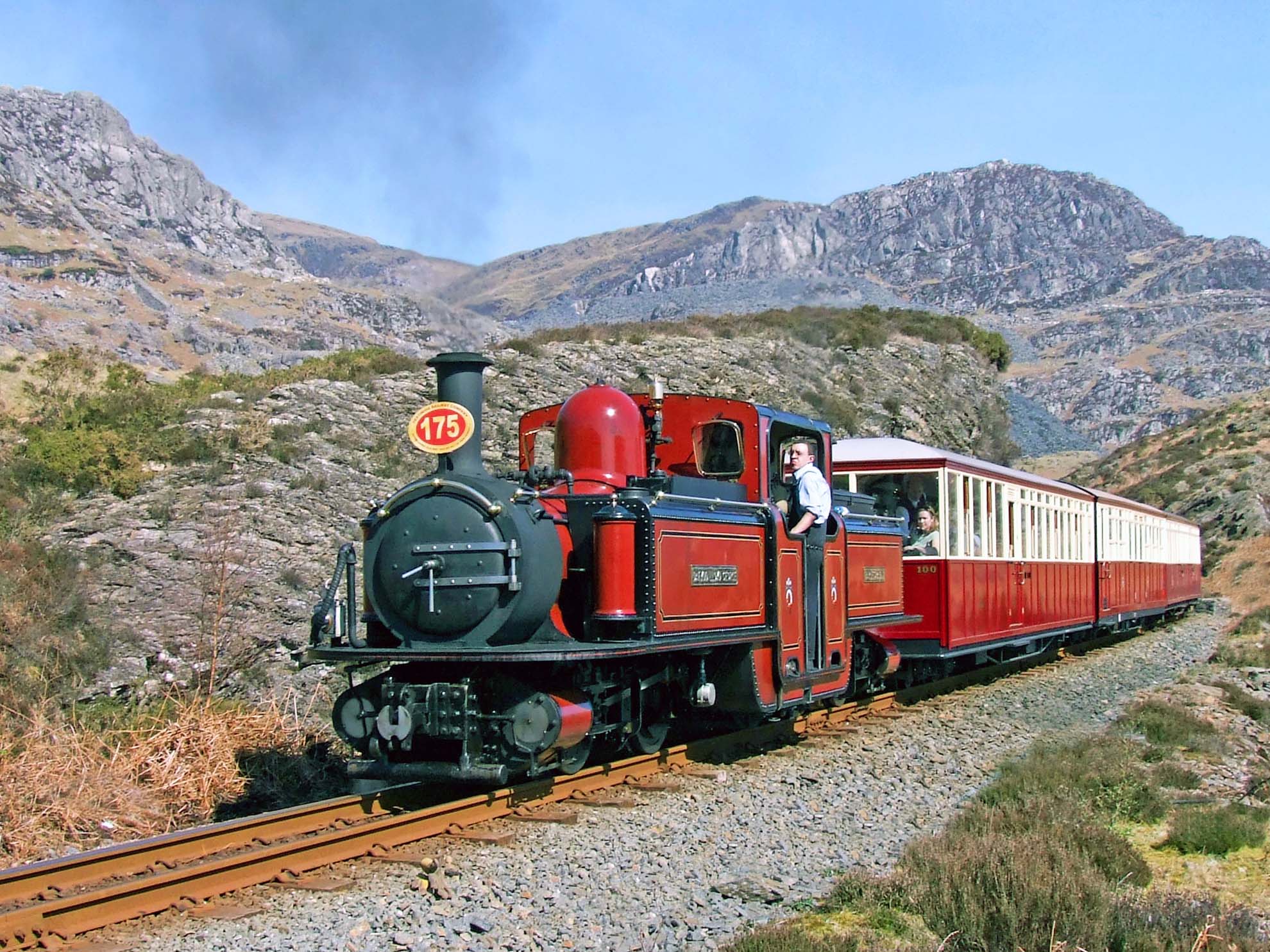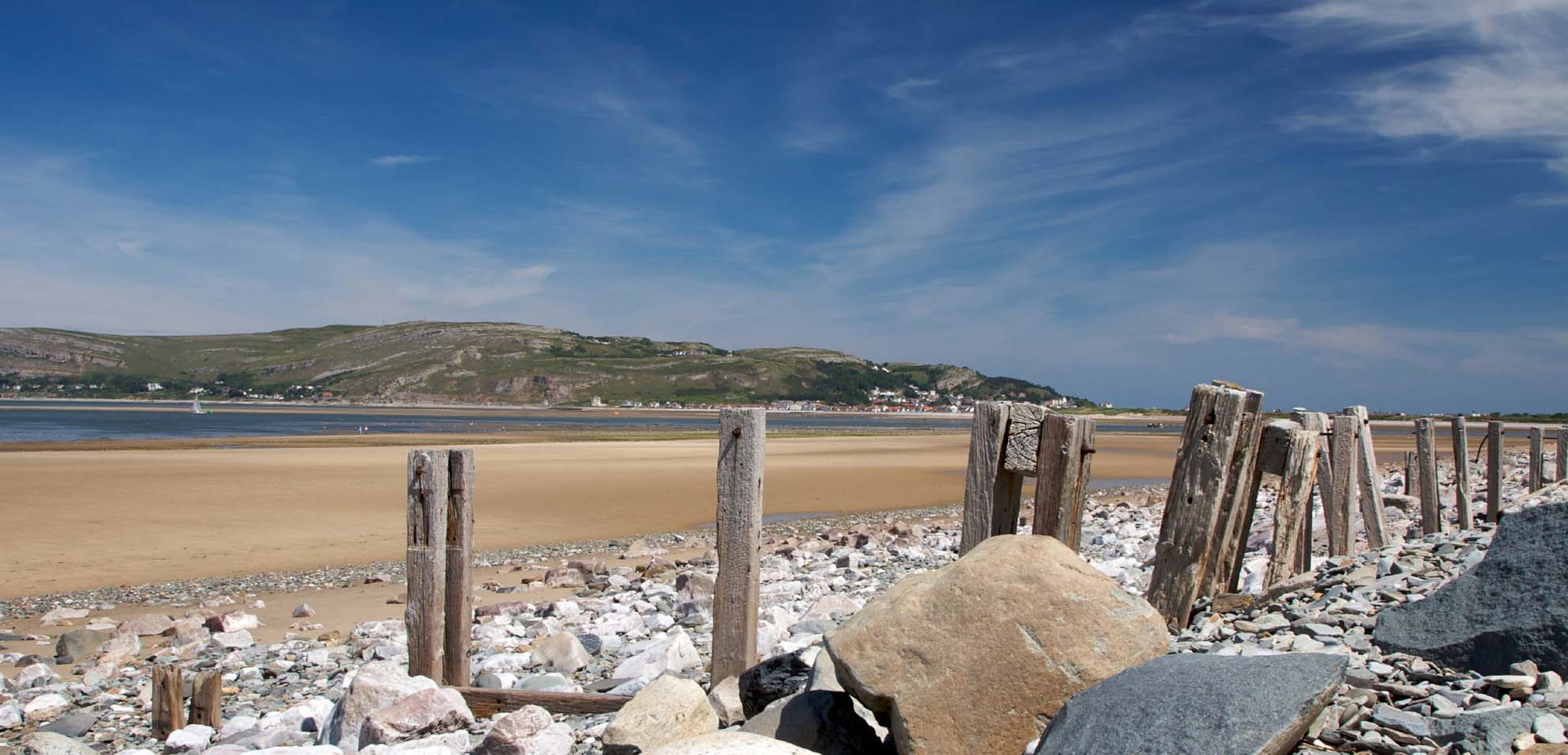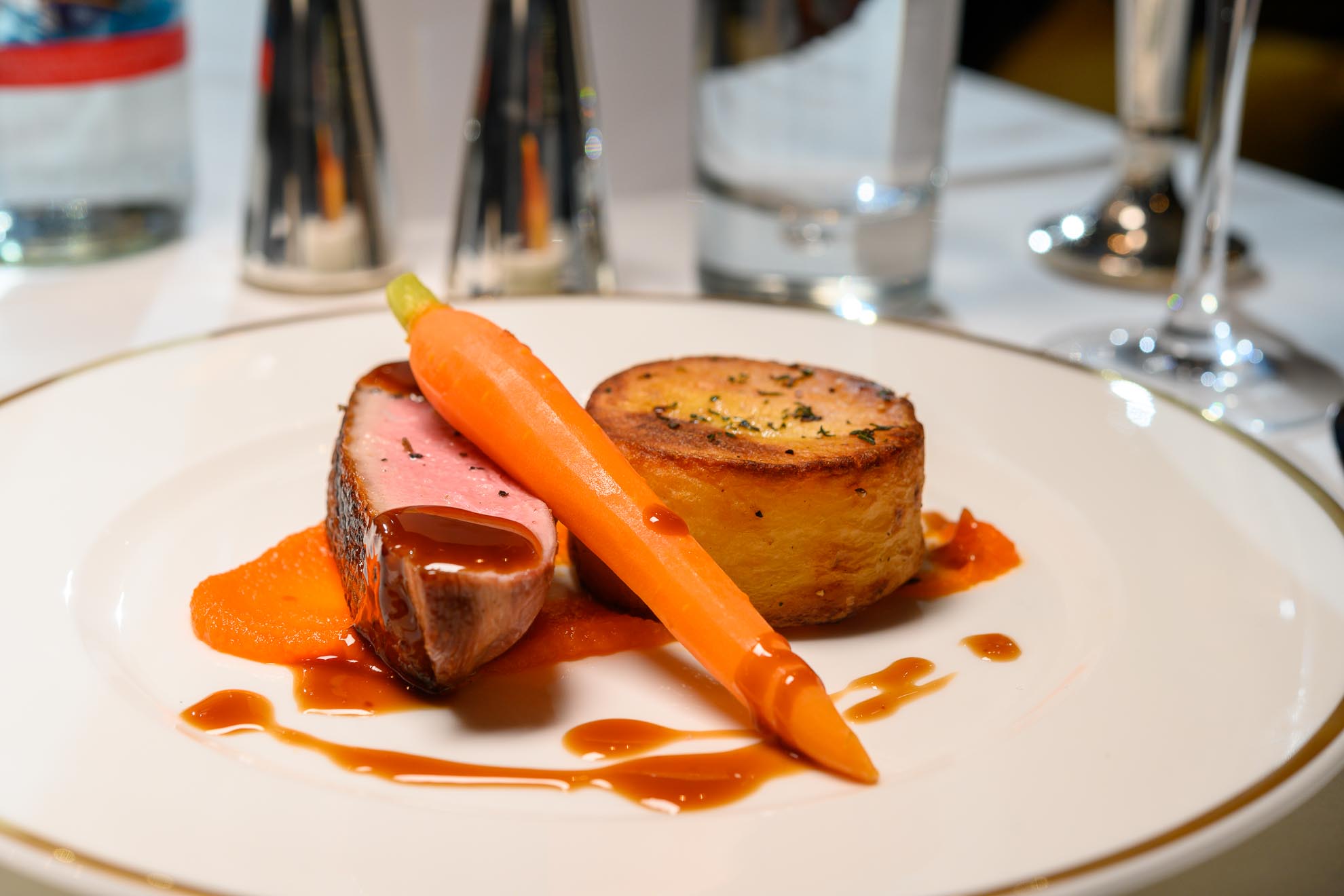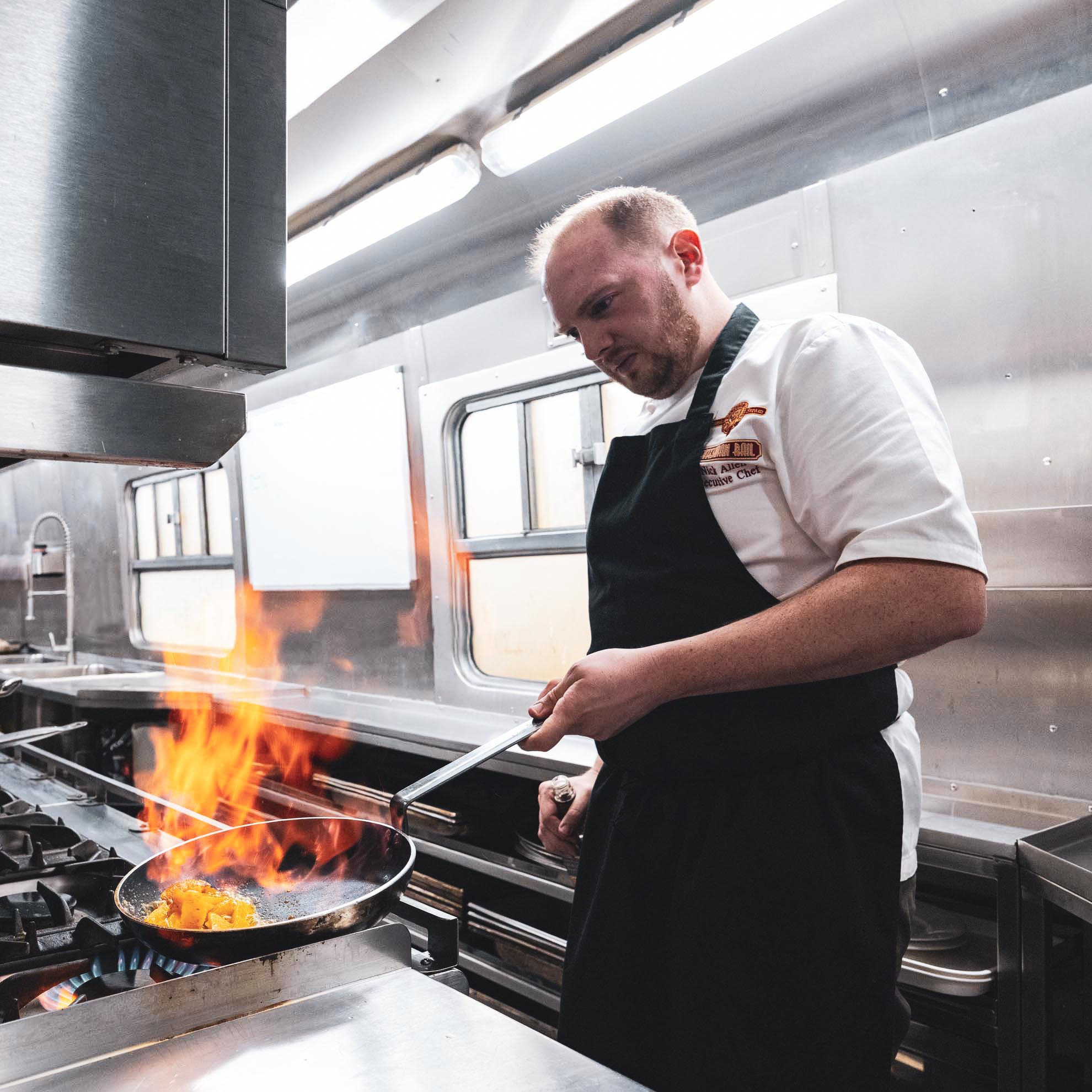 Journey Itinerary
Friday -
11/09/2020
Ffestiniog Railway
Adjacent to the main line station in Blaenau Ffestiniog is the terminus of one of the Great Little Trains of Wales – the narrow gauge Ffestiniog Railway which was built in 1836 to carry slate down to the coast. Our privately chartered steam train will be waiting to take you on a return journey to Tan-y-Bwlch as it twists and turns around the mountainside offering spectacular views across to Harlech and beyond. Seating is limited to 170 passengers so early booking is advised.
Supplement: £22 per person
Supplement: £22.00
Classes of Travel
Mobility
This tour is not suitable for guests with wheelchairs as the platforms at some stations are much shorter than our train or accessible only by a footbridge and it may be necessary to walk through several carriages when boarding or alighting. It is not possible to transfer between our train and the Ffestiniog Railway in a wheelchair. These points should be borne in mind for guests who may have mobility issues.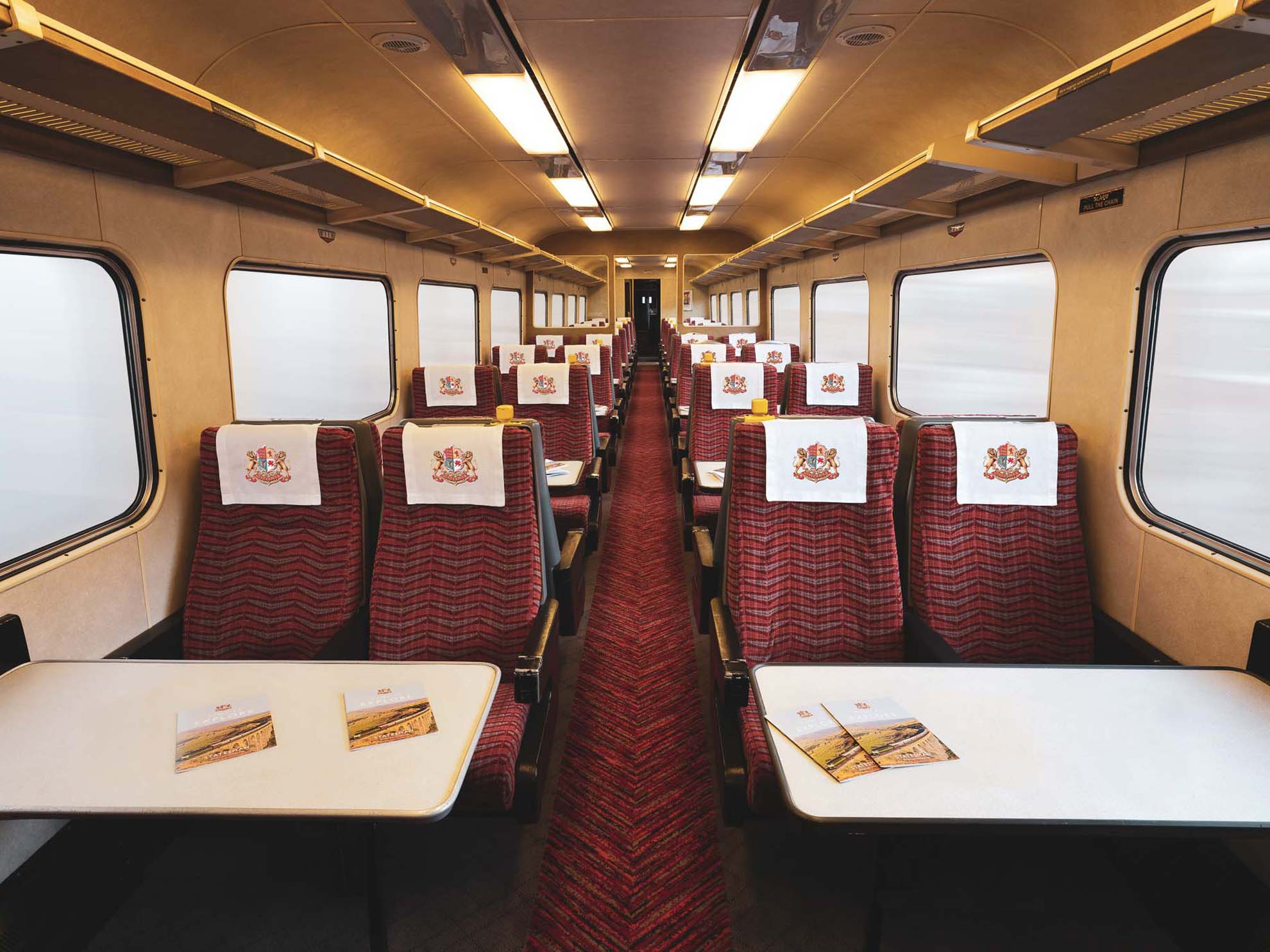 Standard Class -
£85
*
Reserved seating is arranged around a table of 4 with bookings for 2 seated side by side and single bookings normally allocated an aisle seat – a buffet bar is available throughout most of the journey for the purchase of hot & cold beverages, snacks and alcoholic drinks.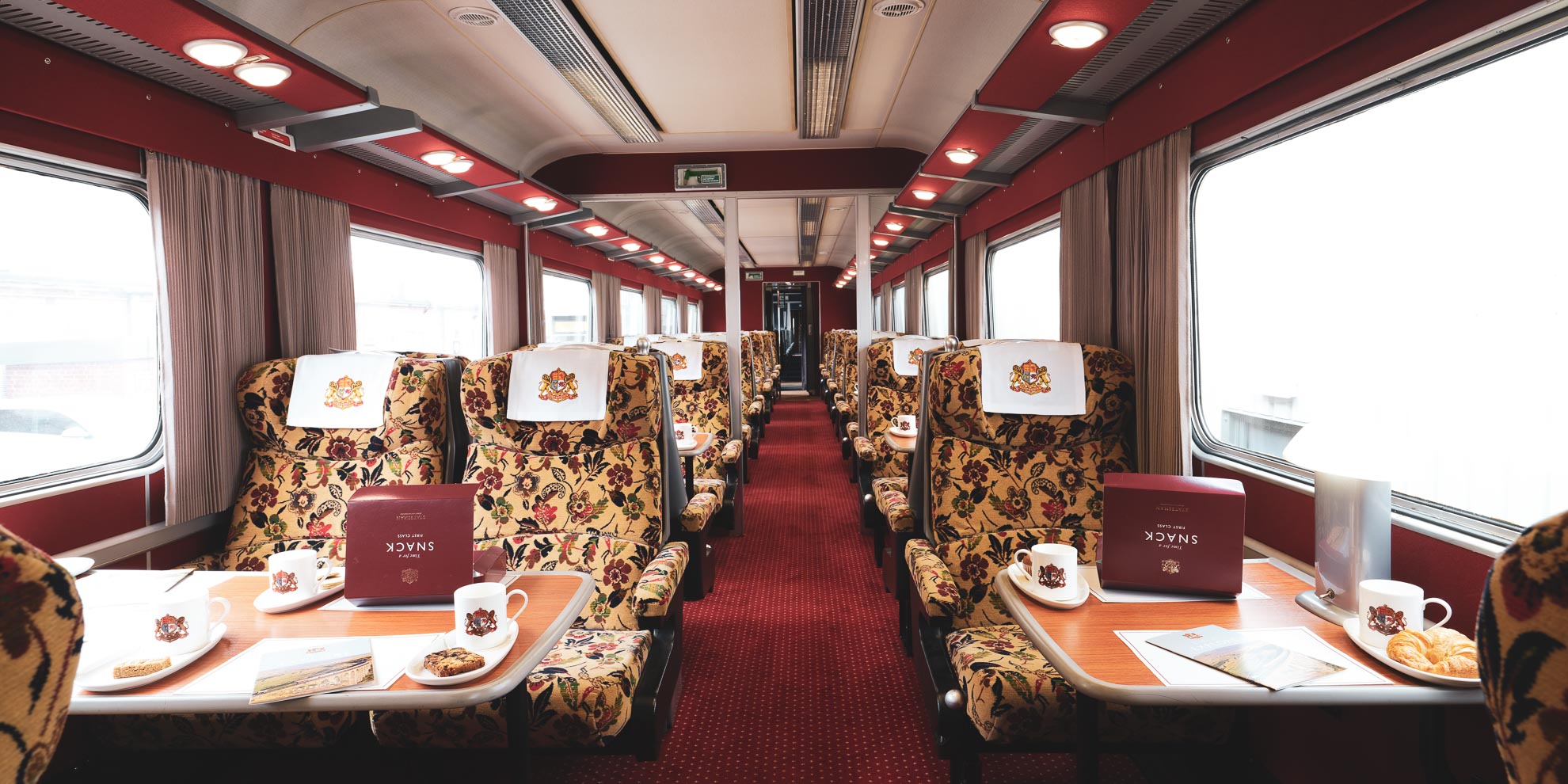 First Class -
£142
*
Reserved seating is arranged at tables of 4 or 2 with additional legroom, wide seats and panoramic windows. Complimentary tea/coffee, biscuits and light refreshments are included, and a buffet bar is available for the purchase of hot & cold beverages, snacks, and alcoholic drinks.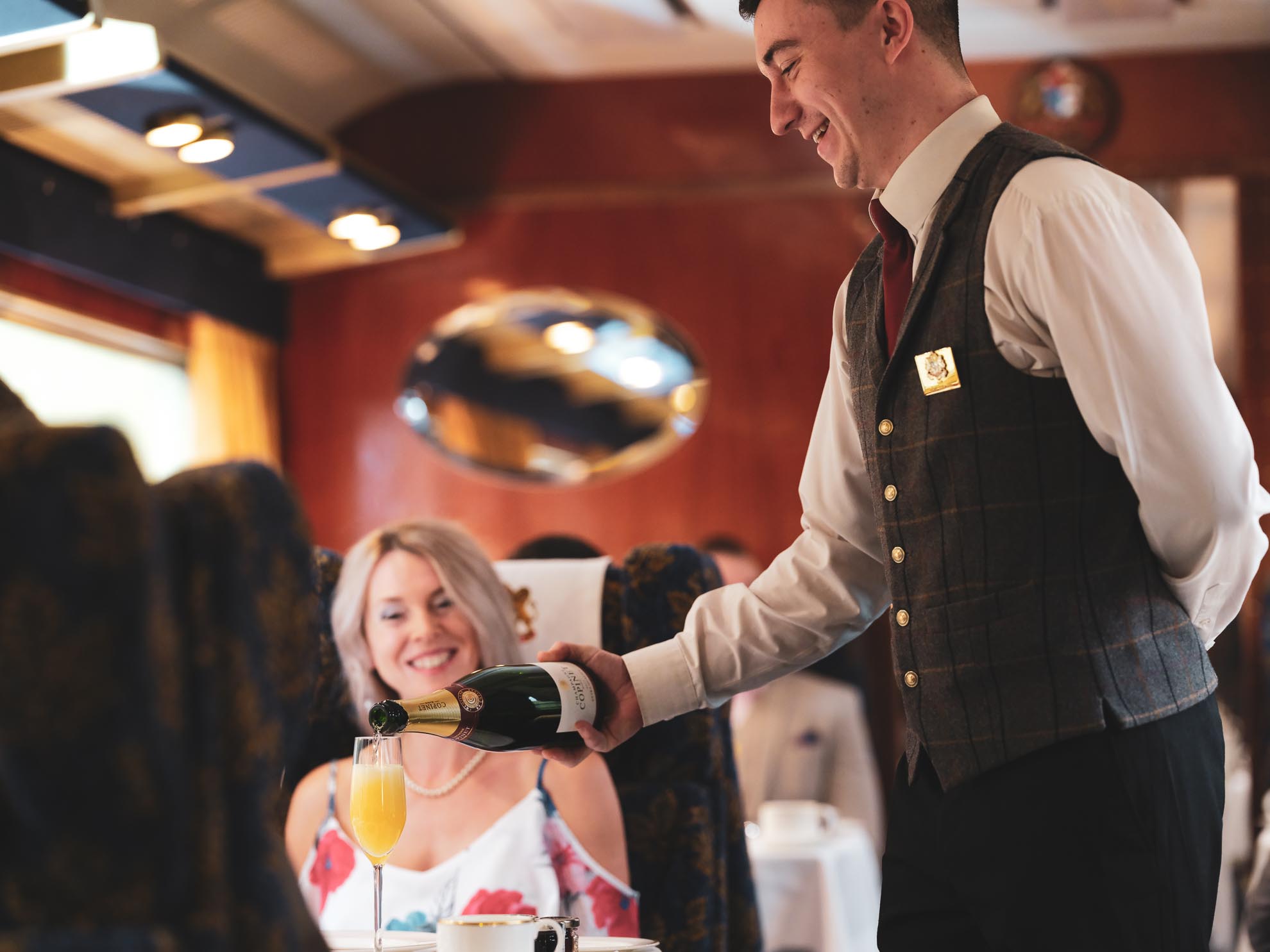 Pullman Dining -
£295
*
This is the ultimate travel experience – seating is in our refurbished Pullman style umber & cream wood panelled carriages offering additional legroom, wide seats and panoramic windows with seating at tables of 4 or 2 laid with crisp linen and fully dressed with fine crockery and glassware. The day starts as you settle into your seat with a glass of chilled bucks' fizz, followed by a full English breakfast and late morning tea/coffee service with pastries prior to the arrival at our destination. Following an afternoon sightseeing break you will be welcomed aboard by your attentive liveried steward and offered a refreshing glass of chilled champagne and selection of canapes as you relax in anticipation of the gastronomic journey ahead. A sumptuous four course seasonal dinner, created by our executive chef, will be served including the Great British cheese board, biscuits, and chutneys – all accompanied by our sommelier's choice of a half bottle of wine per person. The memorable journey will be concluded with a service of coffee and homemade petits fours as you arrive back at your home station relaxed and refreshed.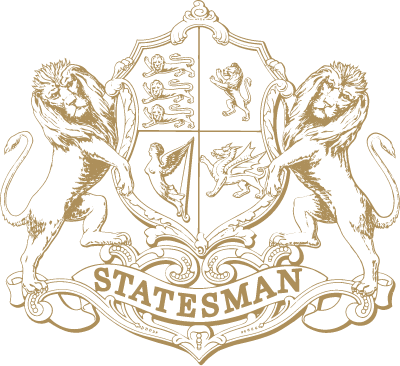 English Riviera Statesman
Pullman Class travel started the moment the train stopped at Kidderminster for us to board with a red carpet greeting from the staff. We were guided to our seats and from then on we wanted for nothing. The comprehensive menu was only surpassed by the unbelievable quality of service from the staff, no request was too much for them. We travelled in luxury and were fed beyond belief all the way to Torquay arriving half an hour early. After approximately five hours of sampling the delights of the resort we were met at the station for the return journey with a punctuality rivalling Japanese Railways, oh and the red carpet both off and back on in Torquay.
The return journey was luxury and food for every mile. Dinner started in the West Country and finish in the West Midlands, a magnificent banquet with wonderful service throughout. A journey that you wished would never end, but it had to and yes with a red carpet.
An experience that will never be forgotten and also won't be the last for us with Statesman.
What a truly wonderful day – Dave (Halesowen)
July 27, 2019
Lord of the Isles Statesman
It is the best way to see thecountry. The Pullman carriages are superb, the staff are amazing, nothing is too much trouble and the food is super. We were lucky with the weather so were able to enjoy the whole experience, we had a marvellous time.
A Wonderful Experience – A Houghton
October 21, 2019
Lord of the Isles Statesman
I do like travelling by train anyway, whether it be in the UK, in Europe or in North America, but this Pullman Class 3-day trip to northern Scotland was simply delightful. My wife and I shared a table for 4 with two others, people who were strangers to us as we were to them, and it was certainly a huge piece of luck that we all got on very well indeed together. But even if we had not had such good conversation, that would not have affected the quality of the rest of the experience provided. The total presentation was lovely, starting from the welcome on board, with a beautifully laid table and Buck's Fizz (I was not the only one to say that simple champagne would be fine -- which was immediately provided). Service was immaculate and friendly throughout the 3-day trip. Food was really excellent, and the 7-course lunch on the return trip on Sunday was wonderful. That might sound like a lot, but when spread out gently over 3 hours, it was just a delicious series. The Inverness hotel was one I would be happy to return to, and our 2 nights' stay there was flawless. The intermediate day trip to Eilean Donan castle was the fulfilment of a long-standing wish, and I'm looking forward to a reprise to the Lake District and a 4* hotel.
Such a Charming Experience – Stephen H
October 21, 2019
Read All Testimonials